Ingjerd Hansen Juvik
Ingjerd Hansen Juvik is a Norwegian artist and children books author. She was born in Svolvær (NO) in 1968 and now lives and works in Bariloche, Argentina. Juvik is educated at Art School Kabelvåg (NO), Vestlandet Art Academy in Bergen (NO) and Konsthögskolan in Umeå (SE). In addition, she has studied Art in Public Spaces at North Norway Art Center and attended courses in comic art making.
Juvik is known as a skilled drawer and illustrator and has written several children's books. Her works have been purchased by institutions like North Norway County Municipality, Rana and Svolvær Art Association, North Norway Art Museum, Luleå Municipality (SE) and Norway's Art Council. She has performed public art projects at Mjølan High School and Harstad Cultural House (NO) and is a member of renowned artist associations both in Norway and Argentina.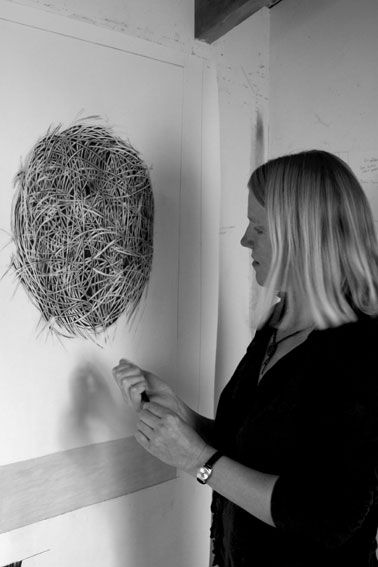 WORK
In the later years Ingjerd Hansen Juvik has taken an interest in comic art and has created the surreal story of Lola, an impulsive, goodhearted, but not too structured young girl. Lola lives with her friends Mona, Synnøve and Calle. Mona is boss of the house and an alternative therapist with rather original views on treatments, while Synnøve earnestly claims to origin from another planet and keeps an invisible frog as her dearest companion. Calle is the only male occupant of the house, and busies his days trying to understand life – and women in particular.
Lola lives a rather impulsive and unstructured life, moving from job to job. Sadly, each job ends in a disaster, much to the frustration of Kim at the employment office. Thus, regular access to money is not to be counted on in Lola's life…
Other characters in Juvik's universe are Sigurd, patient of Mona, Batman, street philosopher Pedro and Atilla, Aksel Hennie's guardian. The actor, playwright and editor being the only nonfictive person in Juvik's comic. Lola has a deep crush on the actor and there is no limit to how far she´s willing to go to get Henie's attention.
The works on display in our gallery are one edition test prints from Juvik´s first album, "Lola I". The album has not yet been published, as Juvik is still in the search for a publisher. All works are drawn by hand by Juvik, then scanned and colored by Nikolai Gowda before printing.
PURCASE
Works by Juvik here
BOOKS and PUBLICATIONS
Stikk deg fri! by Ellen Hofsø, Omnipax, 2000
Paradis og Reddfis, by Ellen Hofsø, Omnipax, 1999
Verdens beste bestefar, (Ingjerd Hansen Juvik) Cappelens forlag, 1998
Rømmeposen, (Ingjerd Hansen Juvik) Cappelens forlag, 1996
Hemmeligheten fra havet, (Ingjerd Hansen Juvik) Cappelens forlag, 1995
Den gule steinen, by Astri Hansen Juvik, Ped. Psyk. Forlag, 1995
Kvinnenettverk, by Eva Ch. Nilsen and Anne Nygård, Tiden Norsk Forlag, 1992
MEMBER OF
NBK, NNBK, Norwegian Drawers Association
NBU, Norwegian Children and Youth Authors
DnF, The Norwegian Authors Association.
AAPB (Artist Organization in Bariloche, Argentina)
PURCASED BY
Campus Helgeland 2013
Nordland Fylkeskommune 2012
Svolvær Kunstforening 2012
Rana Kunstforening 1995
Nordnorsk Kunstmuseum 1994, 1988
Luleå Kommune 1994
BI, Mo i Rana 1993
Norsk Kulturråd 1991